![endif]-->







Arwa Mineral Water Co. Shamlan®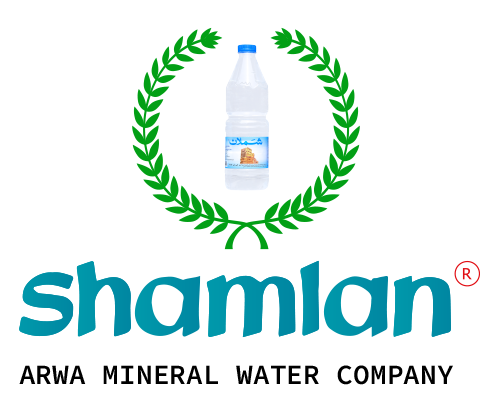 Arwa Mineral Water Co. is one of the pioneering mineral water companies in the Republic of Yemen. it was established on 16 May 1978, as one of the Yemeni limited companies. A number of geological studies have been implemented on several regions in the country, with the participation of international specialized companies. Choosing Shamlan area as the most appropriate location for executing, the project was the prosperous outcome of these studies. Earlier studies carried out before the project execution proved that the Shamlan area is distinguished form the other regions, because it contains highly pure natural mineral water, with high international specifications in quality and purity. A number of specialized technicians carry out regular water check operations by taking random samples to be checked in the laboratory, which is furnished with sophisticated apparatus. Other samples are sent regularly to international specialized laboratories and scientific centers, which always grant Arwa Co. certificates witnessing the high quality and purity of Shamlan® water.
The company was awarded the European Great Prize Of Quality a couple of times. One from Madrid in 1988, the other from Geneva in 1998. The company guarantees its personnel comprehensive safety, medical and insurance service and provides them with the required training sessions.
Our Vision
To be the pioneer in producing the natural pure mineral water with the highest quality and the international standards in Yemen and region as well.
Our Mission
To produce healthy pure bottled mineral water that conform the standards of international quality by using up-to-date techniques in purifying and processing the mineral water in order to satisfy customer and market needs. To abide completely by quality and vocational safety standards, collective work, continuous improvement, matching every new in our field and to be concerned with social responsibility.
Our Principles
1-Producing the healthiest and purist mineral water that conform the international quality and safety standards.
2-The commitment with the vocational safety and social responsibility.
3-Collective work.
4-Transparency.
5-Professionality.
Our Goals
1. To improve the company's profitability and productivity.
2. To obtain the highest market share.
3. To maintain the leading position in the market field of producing the mineral water in Yemen.
4. To make a stable and safe working environment for our employees.
5. To get professional skilled employees.
Social responsibility
As a part of the society, we always participate in building the society and support our local community. We focus on education, mosques, charity and the majority of social activity in our program.
The Purest, Healthiest Water In Yemen